Youth Ambassador Program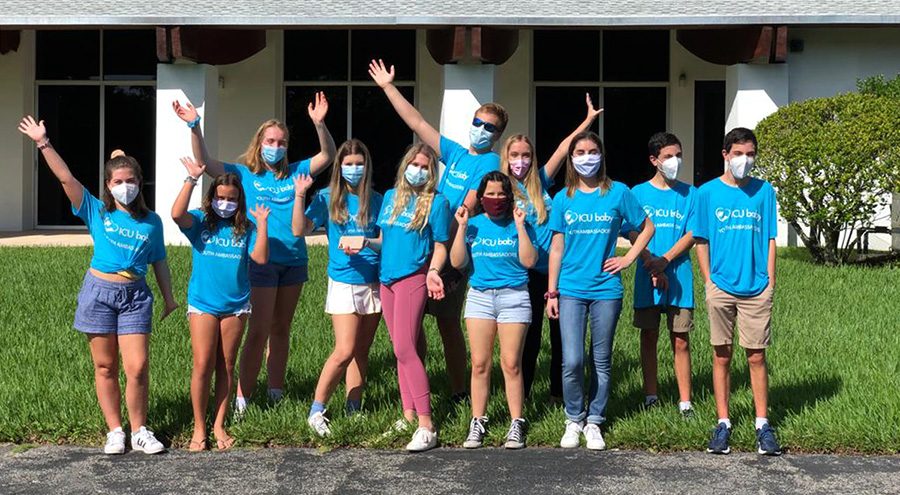 ICU baby is a non-profit organization that supports families with a baby in the Neonatal Intensive Care Unit (NICU). Our vision is to eliminate financial and emotional barriers that prevent families from visiting their baby in the hospital. ICU baby believes that no baby should be alone.
ICU baby is proud to launch its Youth Ambassador Program for students in Grades 8 – 12 who are NICU graduates or NICU siblings. Serving on ICU baby's dynamic team of Youth Ambassadors will provide students with the unique opportunity to volunteer in a non-profit organization that directly relates to their life experiences.
Ambassadors will spread awareness about the NICU, create projects to support families with a baby currently in the hospital, and help fundraise to further ICU baby's mission. Ambassadors will strengthen their leadership and communication skills while working together with their peers to create new community service projects directed to support NICU families.
The ICU baby team and a parent mentor will guide the Ambassadors through their journey to make a significant difference in the NICU community of South Florida. The first, one year term of the Youth Ambassador Committee will start in September 2020. Students that serve in the first term will be Founding Members, and thus have the valuable opportunity to pave the way for the future of ICU baby's Youth Ambassador Program.
Important Dates
---
Application Release: Summer 2021
Application Deadline: Summer 2021
Youth Ambassador Committee Member Announcement: Summer 2021
First Committee Meeting: August 2021
Expectations
Raise NICU awareness in our community by sharing your personal story and ICU baby's mission.
Develop innovative ideas to support NICU families.
Participate in ICU baby's initiatives.
Eligibility Criteria
Be a NICU graduate or NICU sibling.
Be a student, entering 8th grade to senior year.
Make a commitment to serve on the Youth Ambassador Committee for a minimum of one year.
Responsibilities
Attend monthly Committee Meetings via ZOOM.
Serve in a Leadership Governance Role*.
Work together to develop, implement, and manage a Signature Ambassador Project.
Help with the assembly of ICU baby's NICU Packs or Healthy at Home Care Kits.
Assist with ICU baby's fundraising efforts.
*Leadership Governance Roles: President | Vice President | Secretary | Treasurer | Social Media Director | Community Relations Director | Graphic Design/Marketing Director | Historian | Photographer/Videographer
Support ICU baby & help us support families with a baby in the NICU by making a donation today.